BioBam Supported Project – with OmicsBox.
Berries are considered an important fruit for human consumption. Plant hormones and the expression of various genes play a role in the development of fleshy fruits. 
The short shelf life of the fruit after harvest has increased the need for studies in this important area. Several factors influence fruit growth, and genes and proteins have a substantial impact on the fruit's final morphological and physiological traits, as well as the intended characteristics. Genomics data, such as gene expression data, can be used to better understand various molecular mechanisms. The goal of this study is to utilize bioinformatics tools to investigate the gene and protein interactions involved in berries fruit growth.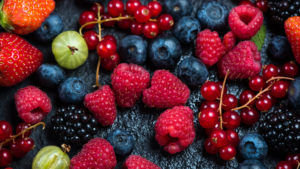 Berries (image from Rauch)
Contribution of OmicsBox
OmicsBox is software for analyzing genomic and transcription data.  In this project, Omicsbox was used for berries annotation, which is much faster than other software, and the annotation process is done by Blast, mapping and annotation.  InterProScan, also included in the software, makes it possible to obtain protein domains that confirm existing annotations.  GO Slim is also used to summarize GO annotation results. Also, the Enrichment of this project is done with Omixbox much easier and faster than other software.
Researchers