The BioBam Bioinformatics Cloud Platform is an AWS based cloud system for high-performance, secure and scalable bioinformatics analysis. With OmicsCloud, BioBam provides a highly optimized, self-sustained HPC solution which offers a very performant system at the minimum expense for your analysis.
Security: Your data integrity is paramount to us. BioBam is an AWS Technology Partner and our solution is supported by the certified infrastructure of AWS. The AWS environments are continuously audited, with certifications from accreditation bodies across the globe. We use data transfer encryption to a VPC to guarantee a safe working environment. Account information is kept secure with sophisticated, state-of-the-art AWS permission policies and authentification services.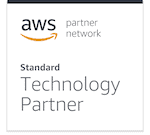 Note: Cloud Units can only be used in combination with a OmicsBox Subscription. It is NOT possible to add Cloud Units to a Trial Account.
Each algorithm (e.g. a sequence alignment) performed in our cloud platform consumes a certain amount of computation time depending on the input data, the algorithm and its parameters (e.g. the sequence length (input data) of a blastx (algorithm) against the NR database (parameter)).
These units correspond directly to the usage of the cluster (used CPU seconds and network traffic/data volume).
An OmicsBox subscription comes with a certain amount of Cloud Units for free (e.g. 6 million units with a 1 year OmicsBox subscription). Please see the table above. If this does not fit your project requirements, additional units can be purchased. This can be done anytime using your BioBam account. 
For the CloudBlast Service you can use the Cloud Units Calculator on this page to estimate how many units your project requires.
All OmicsBox subscriptions include free Cloud Units as follows: (offer valid from the 1st of April of 2019)
| Subscription Time Period | 1 Seat | 2 Seats |
| --- | --- | --- |
| | | |
| | | |
| | | |
CloudBlast
CloudBlast allows you to execute standard NCBI Blast+ searches directly from within OmicsBox in a dedicated computing cloud. Blasting has always been a bottleneck in homology-based bioinformatics analysis and neither public resources nor local installations could provide satisfying solutions to the majority of you. With this new approach, we want to provide a permanent solution to this problem. 
CloudIPS
CloudIPS allows running EBI's InterProScan on the BioBam Bioinformatics Cloud Platform 10 times faster, more reliable and secure.
Other Algorithms
BioBam Bioinformatics Cloud Platform also hosts a number of other bioinformatics algorithms which are either difficult to set up, maintain or highly platform dependent. OmicsBox can directly access them to perform scalable, parallelized data analysis in the cloud. 
How many units to I need to blast all my sequences?
Important Note: These result are an estimate based on previous calculations and may vary depending on your dataset and parameters.
Cloud Units Auto-Recharge
Never run out of units ...
The Auto-Reacharge allows the monthly payments of consumed Cloud Units.
PRICE: The base price is 1 Euro / 40.000 units, 25 % cheaper than the regular Cloud Units.
PAYMENT: At the end of each month, the exact amount of consumed Cloud Units will be charged via automatic payment. The corresponding invoice will be sent via email in PDF.
CANCEL: This service can be canceled at any time.
LIMIT: The amount charged will never be higher than the established limit. The default option is 40.000.000 units (1.000€) but can be adjusted below or individually upon request.
If you want to proceed, please click on the Subscribe button below to set-up your PayPal subscription. Once your account has been set up and confirmed by our sales team we will let you know by email – you are ready to use CloudBlast! Please let us know if you have any further questions.
Default Monthly Limit: 1000€
Never run out of units again
Pay only the units you need
Save money. A Cloud Units subscription is 25% cheaper.
Monthly billing and automatic payment
Cancel whenever you wish
1€ will be charged as setup fee and will be refunded with the first payment.
A minimum maintenance fee of 1 Euro will be charged for each month.
Billing will be at the end of each calendar month.
Spain: VAT taxes may apply.