If you reached the maximum number of computers linked to your subscription, this option allows you to unlink all the computers linked to your subscription and to activate new computers.
Please note, only the person associated to the subscription can unlink the computers via the BioBam Account. If you logged in to your account and can not see your subscription please write us (support@biobam.com). Also, if OmicsBox is currently in use that particular computer will not be unlinked.
Problem: Your subscription could not be activated.
Error: -10006
Description: The provided subscription key cannot be used on this computer. The corresponding subscription is already linked to one or more computers.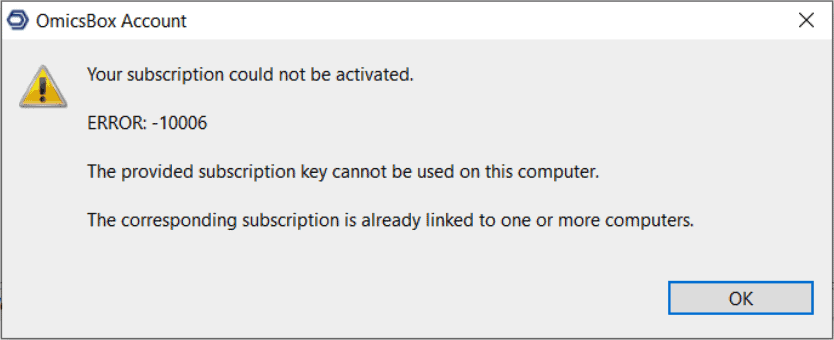 Solution:
Login or register to your BioBam Account: Sign In
Go to the Dashboard and click on "Subscription" and you will be taken to your Personal Area where all your subscriptions will be displayed.. (see image)
Next to your OmicsBox activation key you will find a red Unlink button. Click on it and the subscription will be unlinked from the computers. (see image below)
Done. Now you will be able to activate OmicsBox again on the number of PCs your subscription supports (2 PCs per seat). 
For more information on all the things you can manage with your BioBam Account, please visit our webpage.