The BioBam account portal is the place to manage your account.
The portal allows you to see current subscriptions, previous invoices as well as generate or accept new quotes and pay invoices.
It also allows to automatically recharge the subscription with additional computation units and unlink it from the computers.
Services & subscriptions
All of your subscriptions live in one place. Quickly renew and manage every subscription.
Payments
Update your credit card info, add new ways to pay for subscriptions, or remove old payment options from your account.
Provide a payment link to the purchasing department to proceed with it.
Your order history page shows every past purchase and details. Look back in time, anytime.
Your Info
Change any part of your personal info: update your photo, personal info, and billing info anytime, in one place.
If you use several email addresses or phone numbers, tell us which is the right one to get you info about your BioBam account (support@biobam.com).
Premium Support
Get answers from our support team anytime you've got a question.
In this article:
Sign In / Register a BioBam Account
You can create a BioBam account for free. It will take you one minute. Are you ready to get started? Click here to sign in: Sign In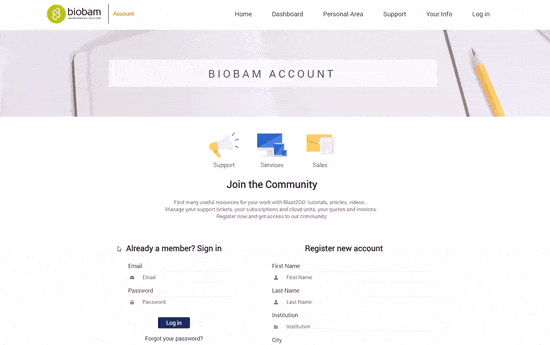 What you can do with your BioBam Account
Use the Dashboard
The dashboard is your home page, where you will have access to all the different options: subscriptions, quotes, invoices, support and your personal info.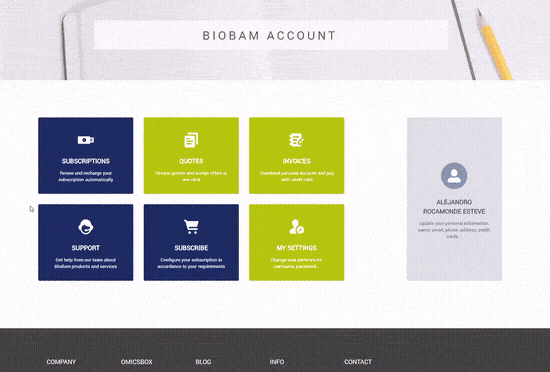 Subscribe to OmicBox
It is possible to subscribe to OmicsBox directly from within the BioBam account by clicking on subscribe on the Dashboard.
On the following pages, you will be able to configure the OmicsBox subscription you want to purchase, generate, accept and pay the corresponding quote. When configuring the subscription it is possible to select the modules (Functional Analysis, Transcriptomics, Genome Analysis and Metagenomics), the time period and the number of seats.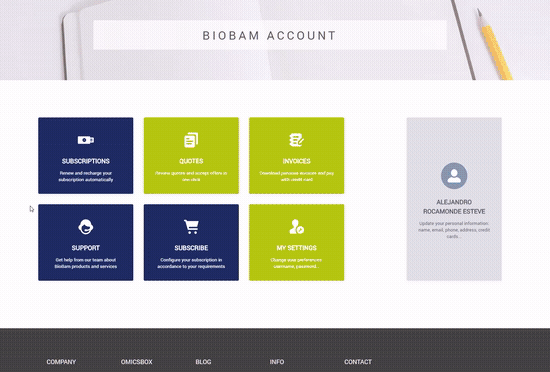 Once finished, you will be taken to the Personal Area, under quotes to proceed with the purchase. See how to accept, modify the quote and pay the invoice in the following sections.
Manage subscriptions
Every subscription linked to your account will appear in the table sorted by its end date. Depending on the type of subscription, you will find different options:
– Renew Subscription: this option allows you to quickly renew your subscription for another year. Once accepted, an offer to renew your subscription will appear in the 'Quotes' table (below).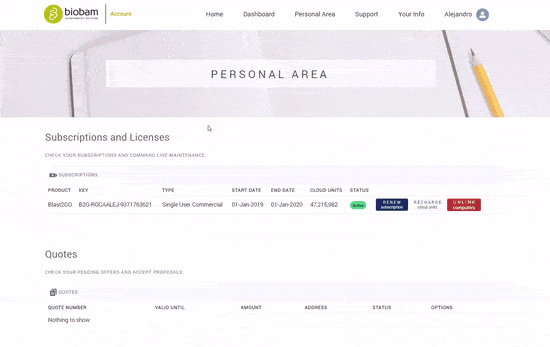 – Recharge Units: this option allows you to add as many Computation Units packages as you want to your existing subscription. Once accepted, a new offer including the selected Computation Units packages will appear in the 'Quotes' table (below).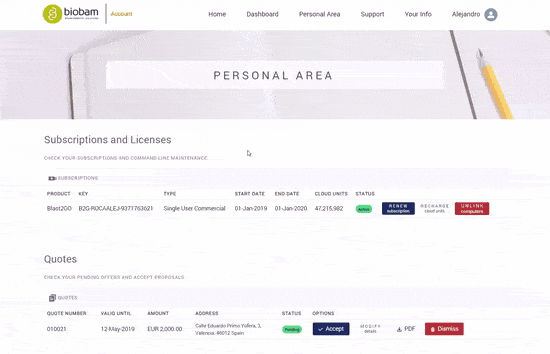 – Unlink Computers: if you reached the maximum number of computers linked to your subscription, this option allows you to unlink all the computers linked to your subscription and be able to activate your subscription in new computers. You can also use this option if your computer has a failure or you need to replace it.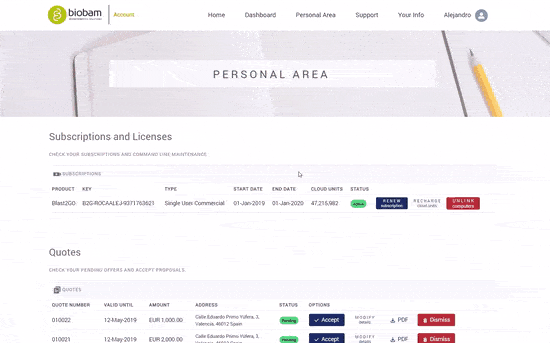 – Extend Trial: if you want to extend your trial for another week, this is possible by clicking on the Extend button. This is a one-time trial extension and the button will be available for 30 days.
Accept quotes
Your pending offers will appear in the table sorted by its quote number. For each offer, you will find 3 options:
– Accept: this option allows you to quickly accept the corresponding quote and generate an invoice. Once accepted, the invoice will appear in the 'Invoices' table (below).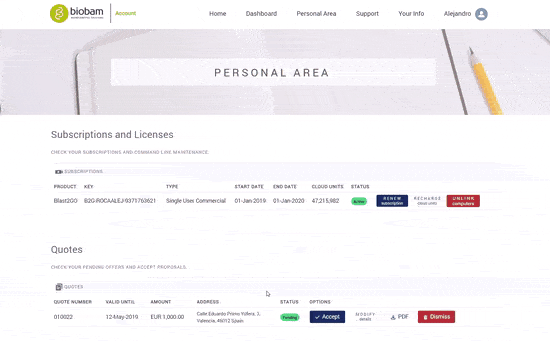 – Modify Quote: this option allows you to modify some details of the quote: the payment method (at the moment you can choose between credit card or purchase order) and the billing address (you can choose if you want to use your institution's address or your personal address). TIP: you can change your personal address anytime using the link to your personal info page.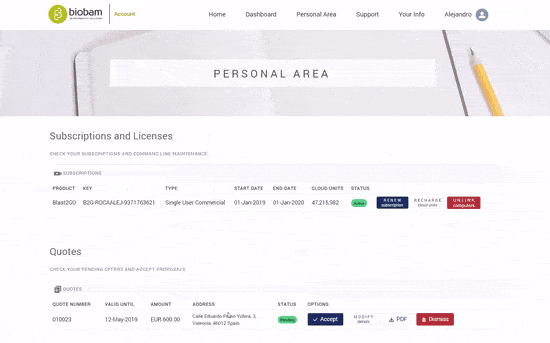 – PDF: this option allows you to download a copy of the quotation document as a PDF file.
– Dismiss: if you think the quote does not fit your requirements, this option allows you to dismiss the quote and remove it from the 'Quotes' table.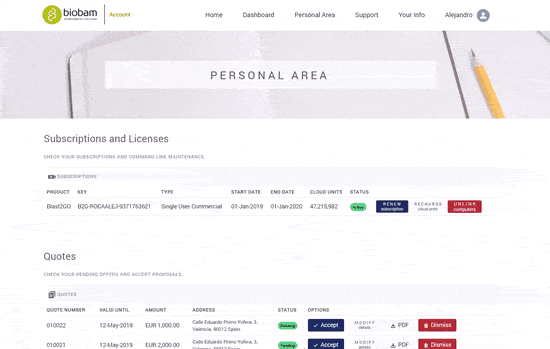 Pay invoices
Your invoices will appear in the table sorted by its invoice number. Depending on the status of the invoice (paid or unpaid), you will find different options:
– Pay: this option allows you to quickly pay the corresponding invoice using a credit card. Once accepted, you will be redirected to our payment system page and after completing the payment you will return to your BioBam account where you can check the status of the payment.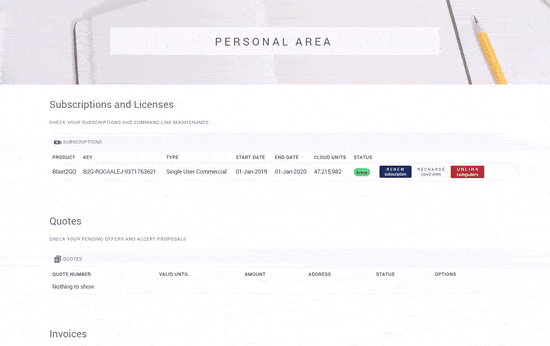 – PDF: this option allows you to download a copy of the invoice document as a PDF file.
– Get one-click payment link: if you can't pay the invoice personally, this option allows you get a public link that you can share with your supervisor/accountant so they can make the payment without a BioBam account.
Support
All your submitted support requests will appear in the tables sorted by its case number. Depending on the status of the case (open or closed), you will find it in one of the tables. For each case, you will find 1 option:
– Manage: this option allows you to quickly access the details of the corresponding case. In that page, you can re-open the case if you need further assistance, communicate directly with us using the composer and even attach files to the case to help us solve your issue.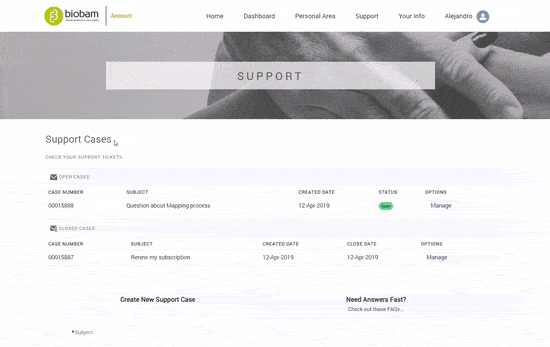 Your Info and Settings
If you want to change your BioBam account settings, like your password or the email notifications you receive, go to the 'Settings' section, make the changes and click 'Save'.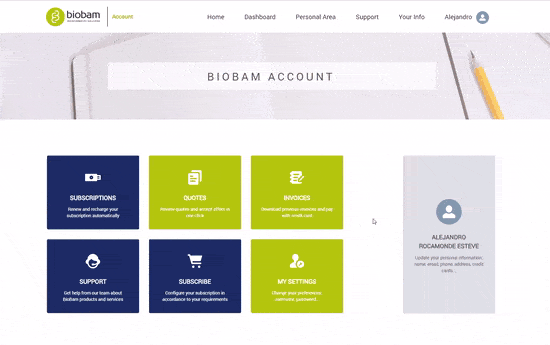 If you need to change your personal information (email, phone, department, address, etc.) go to 'Your Info' section to make the changes anytime. Click the 'Edit' button and modify the information. Once completed click 'Save' to save the changes.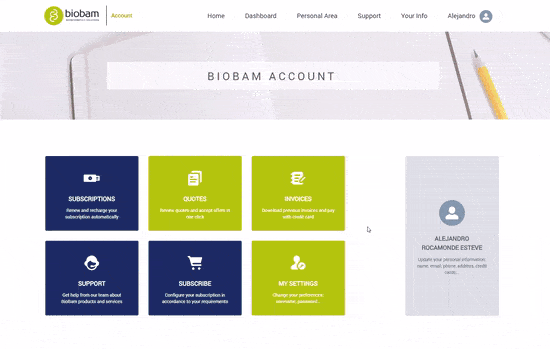 In this page, you will also find your stored payment methods. These payment methods are stored when you pay an invoice using your BioBam account. Remove old payment options using the red button next to the payment option.
Remember, you can create a BioBam account for free to get access to all these features. Register now here: Sign In