Activate development on Blast2GO was discontinued in 2018. All its functionality and more new features are now part of OmicsBox. Because Blast2GO is no longer updated, some of its functions may have stopped working because web services have changed or security certificates have expired, among other things. It is highly recommended to use OmicsBox instead of Blast2GO to benefit from all new functionality and bug fixes.
After a fresh installation of Blast2GO, you will have to deal with 2 issues before being able to run InterProScan.
The SSL certificates shipped with Blast2GO are out of date and need to be updated.
Blast2GO comes with very old certificates and web services such as EBI's InterProScan use newer versions. It is therefore necessary to update the cacerts file located in your Blast2GO installation with the one you can download from here. Once downloaded, please locate your Blast2GO installation folder and replace the file.
If you installed Blast2GO without modifying its installation folder, you can find cacerts in:
Windows: C:\Users\username\AppData\Local\Blast2GO\jre\lib\security\cacerts
Linux: /home/username/Blast2GO/jre/lib/security/cacerts
Please stop Blast2GO and overwrite this file.

ProDom was removed from InterProScan and is no longer available.
You might have seen this error dialog: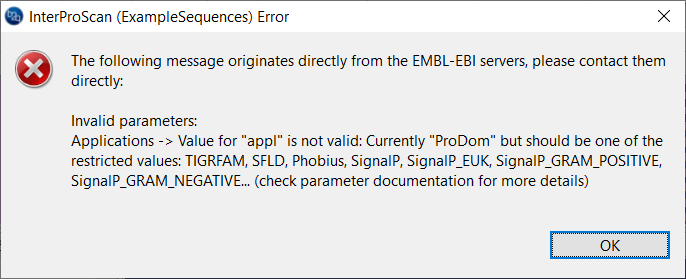 This means that BlastProDom needs to be disabled in the EBI InterProScan configuration dialog like shown here: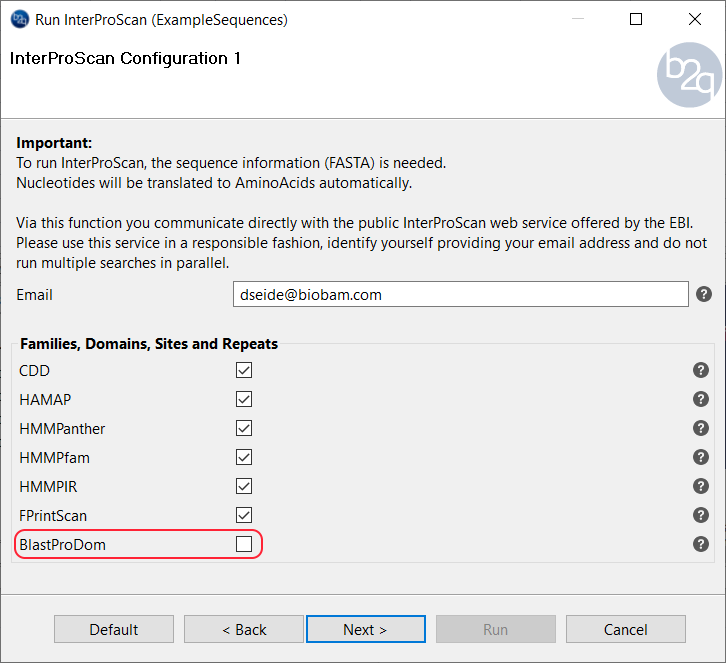 With the help of these 2 workarounds InterProScan @ EBI should work again as expected.