BioBam Supported Project – with OmicsBox.
The world's population is expected to increase to 9.7 billion people by 2050 according to a United Nations report. This rapid growth of the population may cause hunger and undernourishment in poor countries. To overcome these problems alternative crops are being studied.
One of these crops is Moringa oleifera. This plant is distinguished by its nutritional and pharmacologic properties. Due to these characteristics, the study of M. oleifera is important in order to learn more about the genes and enzymes involved in the production of secondary metabolites with pharmacological properties. Thus, differential expression and functional annotation analyses must be carried out, so information of interest related to these metabolites can be provided.
Project overview
The project involved
Obtaining the plant's genome.
Functional annotation of the plant.
Analysis of some characteristical pathways.
Comparison of the annotation with the model plant Arabidopsis.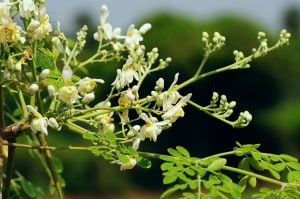 Moringa oleifera (Wikipedia)
Contribution of OmicsBox
OmicsBox is a software to work with non-model genomic and transcriptomic data. In this project, it was primarily used for the functional annotation of M. oleifera. The functional annotation pipeline in OmicsBox is very fast and the annotation steps were carried out by Blast, mapping and annotation. The GO Slim feature was also used to summarize the results of GO annotations. InterProScan, also incorporated in the program, made it possible to obtain the protein domains confirming the existing annotations.
The Enzyme GO Mapping was also used to provide enzyme codes to the sequences, obtaining KEGG's pathways of interest.
Results
Moringa oleifera enzymes involved in the production of secondary metabolites such as glucosinolates, like benzyl-glucosinolate; flavonoids, like kaempferol and quercetin and drugs like fluorouracil, isoniazid, and irinotecan were found in the analysis performed by OmicsBox. The annotation pipeline, assigned at least one GO term to the 86% of the M. oleifera genes. Results obtained showed a possible contraction in the MADS-box family and a possible expansion in the Homeobox family when compared with Arabidopsis thaliana data.
This study made it possible to identify the genes for genetic improvement and lay the funds for future genetic or biochemical investigations.
This project has been supported by free access to all OmicsBox resources, including all modules.
Researchers